By Bassma Al Jandaly__
Gulf News January 2002
Fertility among national women in Dubai remained high in 2000, according to the results of a survey published yesterday by Dubai Municipality's statistics Department. Arif Obaid Marah Al Muhairi, Head of the Statistics Department, told Gulf News that the survey indicated a fertility rate of 4.04 births per national woman in Dubai. The current birth rate among nationals satisfies the UAE demographic policy of enhancing the local population. The fertility rate, however, fell by 0.16 per cent compared to the 1993 census.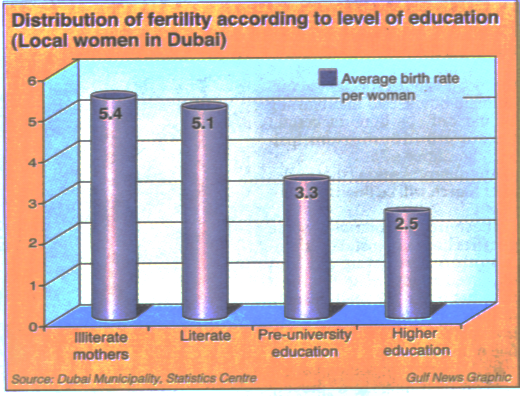 "It was also found that the number of male births was higher than female by almost five per cent. The ratio of males born last year was 52.34 per cent against 47.66 for females" he said. Al Muhairi explained that a suryey had been conducted on 426,000 national married women, widows and divorcees in both the urban and rural areas of Dubai. He noted that the fertility rate among illiterate women was more than twice of that of women who had graduated from universities. "Illiterate women on average have produced 5.4 children. Women with higher education produced only 2.5 children," he said. Al Muhairi added that those with a lower education (who could just read and write) produced 5.1 children, while women with a pre-university education produced 3.3 children.
He explained that the marriages of 31.85 per cent of local women varied between 0-9 years. Their marriages broke up for unidentified reasons. Al Muhairi said that the marriages of 15.71 per cent of women varied between 0-4 years. There -was a high rate of divorce among newly married couples. He said 16.41 per cent of mar­riages broke up within five to nine years, while the marriages of 12.88 per cent collapsed within 10-14 years. For another 12.33 per cent their marriages ended within 15-19 years of marriage," he said.