Drive against plastic bags
Abu Dhabi Indian School students distribute booklet on their harmful effects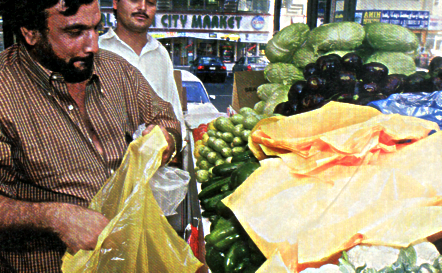 Written by Kavitha S Daniel
For Gulf News December 2001
Say No! to Plastic Bags, a booklet designed and published by students in the capital, was recently distributed among the public in an effort to raise awareness about the harmful effects of the bags .On Wednesday, Abu Dhabi Indian School students with support from the Environment Research Wildlife and Development Agency (ERWDA) distributed the booklet to passers by on the Corniche. Students also gave them bags made out of newspapers. People were asked for their reactions and ideas for ways in which we could all use plastic bags less.
Why say NO?
The booklet is printed in three languages, English, Arabic and Urdu and shows reasons that plastic bags should be avoided. The first is that they are non-biodegradable and do not decompose; nor can they be disposed of by burning as burning plastic creates carbon monoxide (a poisonous gas). Blue plastic bags (the kind we buy vegetables in ) is the least recyclable of all. These bags are often dumped into the ocean where they pose a serious threat to marine life. Marine animals, such as the turtle mistake plastic bags for jellyfish and die of suffocation when they try to eat them. Discarded plastic bags also block sewers and drains, and endanger domestic animals that try to eat them.
What can we do?
The booklet also makes suggestions on what an individual can do to help. Among the suggestions are
.Form voluntary groups to dispose of bags properly
Who took part?
Around 45 students of the Abu Dhabi Indian School participated in the project and distributed more than 500 booklets on the Comiche.
What were the results?
The feedback from the public, which was noted down by the students, ranged from helplessness to the supermarkets' reliance on plastic bags to suggestions to impose regulations and fines by the government. Said Karan Singh, a coordinator of the project: "We found that many people know about the ill- effects of plastic bags. But, most people feel helpless and want legislation to prevent shopkeepers using these bags. However, a few expatriates said that they take their own shopping bags to the market to avoid the blue plastic bag. There were people from Jordan, Sudan and Lebanon who said their home countries had already banned the use of plastic bags and hoped a similar ban would be brought in here.
This entire awareness programme has been done as part of the Abu Dhabi Indian school's project for the Shell Better Environment award competition held each year. Entries to this competition are first approved and sponsored by Shell Markets in association with the Federal Environment Agency and the Ministry of Education..

Click here to find the questions